Since November 2020, the number of COVID-19 cases in the U.S. has rapidly increased, further straining health care systems across the country. Between December 31, 2020 and January 13, 2021, new reported COVID-19 cases averaged about 225,000 per day, over 7 and 3 times higher than the surges the nation experienced during the spring and summer of 2020, respectively.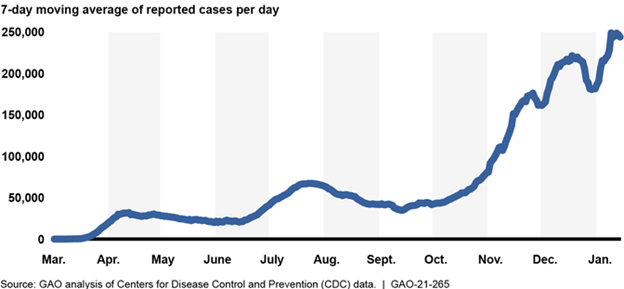 The country also continues to experience serious economic repercussions and turmoil as a result of the pandemic. As of December 2020, there were more than 10.7 million unemployed individuals, compared to nearly 5.8 million individuals at the beginning of the calendar year. Until the country better contains the spread of the virus, the pandemic will likely remain a significant obstacle to more robust economic activity.
The GAO published a report on these findings and is making 13 recommendations to federal agencies to improve the ongoing response and recovery efforts in the areas of public health and the economy. GAO is pleased that the Consolidated Appropriations Act, 2021, enacted in December 2020, requires a number of actions that are consistent with several GAO's prior recommendations, including those related to the medical supply chain, vaccines and therapeutics, and COVID-19 testing. GAO will monitor the implementation o the act's requirements.
Stay the course, stay well, mask up, get vaccinated and stay tuned!