Protecting through insurance and risk management is just one of the ways HealthCap® makes a difference. Care is at our core—and we live it out every day. We're also actively involved in several charitable organizations in our own community. We also care about making a difference in the lives of our member residents and are actively involved in several charitable organizations in our own communities.
HealthCap® Helping Hands
HealthCap® Helping Hands was created by Chelsea Rhone staffers in 2013. Since then, we have forged strong ties with our agents, their support staff, our risk managers, and our HealthCap® members. These ties go beyond the business of insurance to improve the quality of life and work in our senior care facilities, and in the communities that support them. Each quarter, a nominated member facility receives a gift dedicated to improving the quality of life for the residents. Examples include a large-screen television, an awning for a patio, and remodeling the beauty/barber salon.
See what HealthCap® Helping Hands is all about
---
Food Gatherers
Food Gatherers exists to alleviate hunger and eliminate its causes in our community. They distribute 5 million pounds of food to 164 non-profit programs serving hungry adults, children, and families in Washtenaw County, MI.
---
Special Olympics
Dignity, acceptance, and a chance to reach one's potential – these are human rights worth promoting for everyone. For more than four decades, Special Olympics has been bringing one message to the world: people with intellectual disabilities can and will succeed if given the opportunity.
---
The Vetter Foundation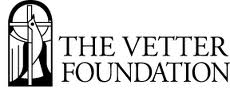 The Vetter Foundation was formed in 1992 by Jack and Eldora Vetter for a twofold purpose: to support the various needs of Christian organizations serving the less fortunate, and to impact and improve the quality of education in health care.
---
The Purple Rose Theatre Company

The Purple Rose Theatre Company is a leading American theater dedicated to producing the New American Play and creating opportunities for Midwest theatre professionals. With the belief that theatre is not just for the privileged few, but for everyone, they're dedicated to serving audiences by entertaining and challenging them.