An article published on MIT Medical asks the question, "is all this social distancing weakening our immune systems?" According to MIT, the answer is NO, that this is NOT the way our immune system works. The idea that individuals who are exposed to a variety of microbes (i.e., germs) in childhood build better immunity is likely to be true!
In fact, there is evidence that young children who have early exposure to different types of germs are less likely to develop allergies and autoimmune disorders such as hay fever, asthma, or inflammatory bowel disease.

The pandemic has created different types of stress for all of us, including the stress of having to socially distance ourselves for an extended period of time. So, work on staying in contact with the people you care about… The Centers for Disease Control and Prevention (CDC) has useful tips. And Community Wellness at MIT Medical offers a guided, three-minute relaxation recording at 617-253-CALM(2256) and free MP3 files you can download to practice mindfulness and relaxation on your own.

While it is unlikely that you will catch a cold the moment you start going out more, it will bring you into contact with more germs, and there's a lot you can do to prepare that old immune system for those challenges.

Is all this social distancing weakening our immune systems? – Kim Schive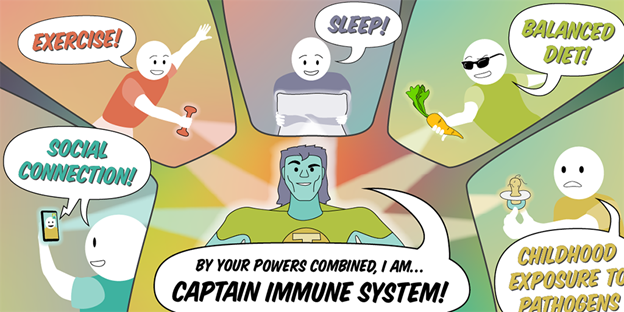 Stay well and stay tuned!