What is already known about this topic?
Health care personnel (HCP) are at high risk for COVID-19. The early distribution of two mRNA COVID-19 vaccines (Pfizer-BioNTech and Moderna) to HCP provided an opportunity to examine vaccine effectiveness in a real-world setting.
What is added by this report?
The first U.S. multisite test-negative design vaccine effectiveness study among HCP found a single dose of Pfizer-BioNTech or Moderna COVID-19 vaccines to be 82% effective against symptomatic COVID-19 and 2 doses to be 94% effective.
What are the implications for public health practice?
The mRNA vaccines are highly effective at preventing symptomatic COVID-19 among U.S. HCP. High vaccination coverage among HCP and the general population is critical to prevent COVID-19 in the United States.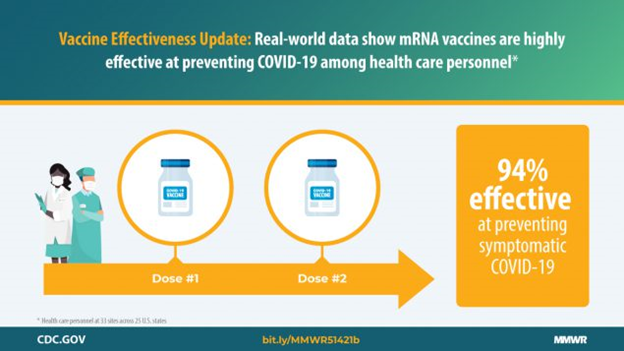 Photo and all information sourced from "Interim Estimates of Vaccine Effectiveness of Pfizer-BioNTech and Moderna COVID-19 Vaccines Among Health Care Personnel — 33 U.S. Sites, January–March 2021" posted by the Centers for Disease Control and Prevention on May 21, 2021.
Stay well and stay tuned!