Mask mandates were associated with statistically decreases in county-level daily COVID-19 case and death growth rates within 20 days of implementation. Allowing on-premises restaurant dining was associated with increases in county-level case and death growth rates within 41-80 days after reopening. State mask mandates and prohibiting on-premises dining at restaurants help limit potential exposure to SARS-CoV-2, reducing community transmission of COVID-19.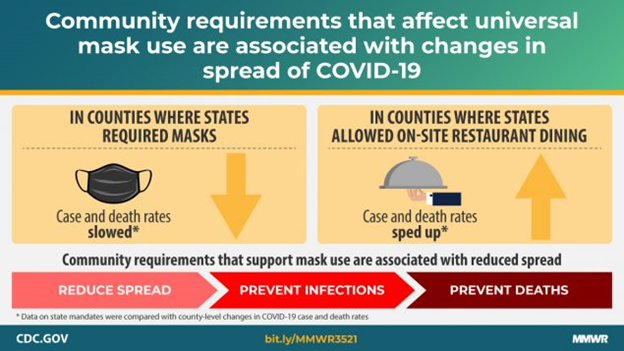 Studies have confirmed the effectiveness of community mitigation measures in reducing the prevalence of COVID-19. Mask mandates are associated in COVID-19 case and hospitalization growth rates whereas reopening on-premises dining at restaurants, a known risk factor associated with SARS-CoV-2 infection is associated with increased COVID-19 cases of deaths, particularly in the absence of mask mandates. The current study builds upon this evidence by accounting for county-level variation in state-issued mitigation measures and highlights the importance of a comprehensive strategy to decrease exposure to and transmission of SARS-CoV-2.
Prohibiting on-premises restaurant dining might assist in limiting potential exposure to SARS-CoV-2, however, such orders might disrupt daily life and have an adverse impact on the economy and the food services industry. It is definitely a balance, we need to take a few minutes to evaluate the risk and move slowly, take our time and do what works for us as individuals. Stay the course, stay well, mask up, get vaccinated and stay tuned!