As many parts of the country are experiencing increased numbers of COVID cases, there are many people who are recovering from the virus. Our attention has been on identifying symptoms of active disease, as it should be; however the story doesn't end there!
As patients begin the recovery phase, many are experiencing ongoing symptoms from the virus. These symptoms include fatigue, dyspnea, joint pain, chest pain, cough, etc. A study conducted in Italy in the "waning" phase of the pandemic, beginning on April 21, 2020 assessed patients who met the World Health Organization's (WHO) criteria for discontinuation of quarantine (no fever for 3 consecutive days, improvement in other symptoms and 2 negative test results for severe acute respiratory syndrome) and monitored lingering symptoms with interesting results.
From April 21 to May 29, 2020, 143 patients were included. At the time of the study, only 18 (12.6%) were completely free of any COVID-19 related symptoms, while 32% had 1 or 2 symptoms and 55% had 3 or more. None of the patients had any signs or symptoms of acute illness. Worsened quality of life was observed among 44.1% of patients. The figure below shows that a high proportion of individuals still reported fatigue (53.1%), dyspnea (43.4%), joint pain, (27.3%) and chest pain (21.7%).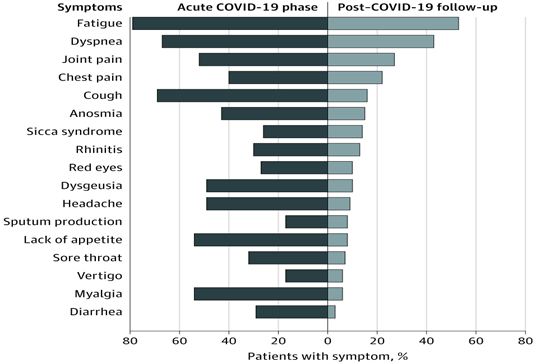 Takeaway: be sensitive to residents and staff who may be struggling through the recovery phase of this virus. Symptoms may continue to cause them discomfort, anxiety, etc. which may limit their ability to maintain their "normal" lifestyle. As we continue to recover, it is good to remind ourselves that everyone is unique and although one resident may "bounce back," another may not fully recover for weeks/months. Continue to be there for your residents and staff; we still have a long road ahead but we will get there Stay well, stay safe and stay tuned!