Researchers from the Radboud University Medical Center in the Netherlands have trialed cooling vests, originally designed for elite athletes, in nursing staff working long shifts in COVID19 wards wearing full personal protective equipment (PPE). The study found that among 386 healthcare workers involved in COVID-19 care, a high prevalence of:
Thermal discomfort (77%),
Excessive sweating (64%),
Thirst/dehydration (81%),
Headache (57%) and
Fatigue (59%).
These findings highlight the need to find and implement effective solutions to reduce heat stress among nurses involved in COVID-19 care. Improving comfort for staff will make their work more pleasant and may help them to work more effectively.
The vests were designed for caregivers versus elite athletes and the cooling power of the modified vest is lower but works longer. The vests were stored in a refrigerator prior to use and were made available to staff on the ward in a mobile cooler. In a trial of 17 nurses, staff reported that they felt more comfortable while wearing the bests, although their effect on core body temperature was minimal.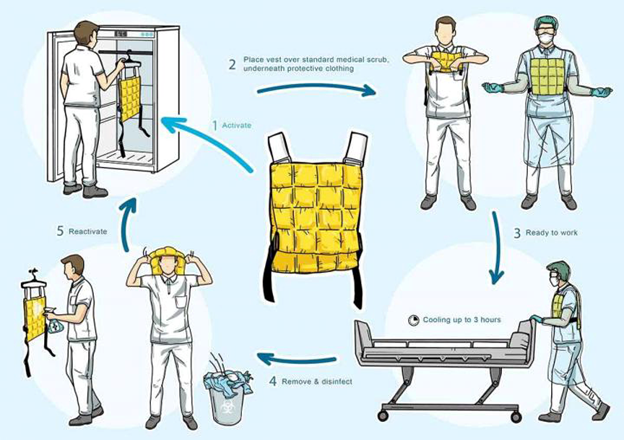 Without a cooling vest, almost 90% of the nurses experienced discomfort and warmth. With a cooling vest, only 20-30% of the participants experienced this. Stay the course, stay well, get vaccinated, mask up and stay tuned!